At Aleman Builders, we give the same importance, care, and attention to every project regardless of size. We always deliver a premium service, with your budget in mind. Our professional, talented staff is equipped with a variety of skills and construction expertise.
By Your Side from Start to Finish
NEW HOME CONSTRUCTION
After many years working in Naples and surrounding areas, Aleman Builders has acquired the experience, skills, and craftsmanship to make your vision become reality. From start to finish, we engage closely with all of our clients to make sure that each phase of the construction is completed according to the expected requirements and appropriate steps.
Our professionals team and expert partner trades work endlessly on the smallest details to maintain high quality and commitment in our client's projects. We are a strong believer in earning your trust and ensuring that you are completely satisfied with your construction project.
Update Your Space
HOME & CONDO REMODELS
Renovating a whole house can be a stressful phase in any family's life, which is why we provide a team of professionals in design and architecture to help you create innovative ideas that will make this process smooth. We also understand that sometimes we must work in phases to accommodate our client's unique situations. That is why we work closely with our clients to ensure that the remodeling process is completed as soon as possible without disturbing their everyday living. We take into consideration to not disturb neighbors with construction noise and mess, while complying with private community regulations.
Welcome Home
RESTORATION & REPAIR
After living in Florida for so many years, we are aware of the risks to natural disasters. Hurricanes and storms can be frustrating and stressful to deal with. We do all of our efforts to support our community in moments of crisis. We help in several ways, from tree removal, re-roofing, to restoring entire interiors. Also, working with insurance companies can be an irritating process, that's why we help our clients with their estimates in damages with a sense of urgency. We do our best to help our community recover and to assure that all families can continue their normal lives.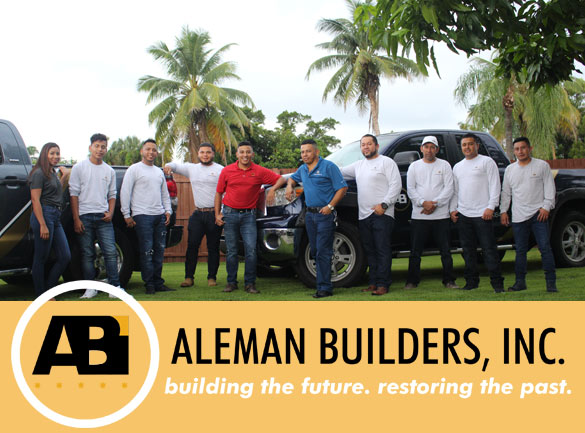 Aleman Builders, Inc. is committed to delivering our clients a finished product beyond expectations.
Start Building with Us Today